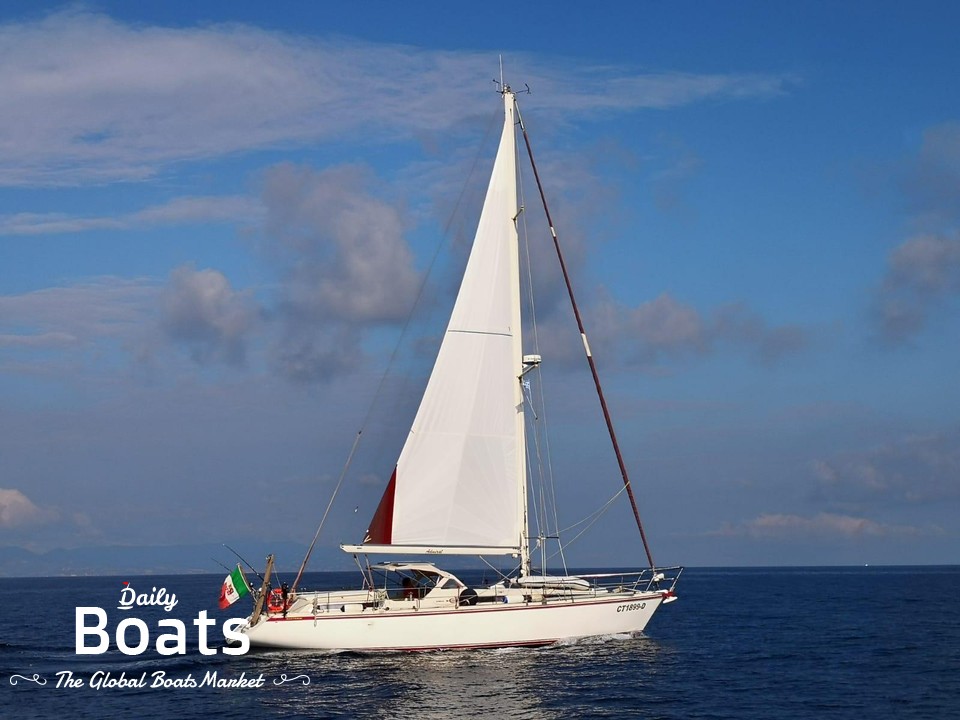 1995 Amel Santorin for sale
Used 1995 Amel Santorin for sale is located in Fareham (England, United Kingdom). This vessel was designed and built by the Amel shipyard in 1995. Key features 1995 Amel Santorin: length 14.02 metres, beam 3.96 metres and max boat draft 1.88 metres. Hull key features 1995 Amel Santorin: hull material - fiberglass and keel type - fin keel. Volvo Penta D2 75 engine: 55 hp, 1995 yrs and fuel type - diesel. 1995 Amel Santorin refers to classes: sailing cruiser boats and center cockpit sailboats. To clarify the price $207,509 and buy Amel Santorin - contact the offerer!
Amel Santorin photos
1995 Amel Santorin specification & technical information
Type
Sail
Class
Sailing cruiser boats
Make
Amel
Model
Amel Santorin
Condition
Used
Year
1995
Fuel type
Diesel
Keel type
Fin keel
Hull material
Fiberglass
Length
14.02 metres
Beam
3.96 metres
Max boat draft
1.88 metres
Location
Fareham, United Kingdom

1995 Amel Santorin engine details #1:

Fuel type
Diesel
Make
Volvo Penta
Model
D2 75
Engine power
55 hp
Year
1995
Buy 1995 Amel Santorin
Do you want to buy 1995 Amel Santorin in Fareham? - Contact now!
1995 Amel Santorin price
** Actual 1995 Amel Santorin price can be diffefferent

$207,509